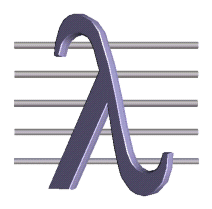 Stanford University's Common Music:
Object-Oriented
Music Composition Environment
Common Music began in 1989 as a response to the proliferation of different audio hardware, software and computers that resulted from the introduction of low cost processors. As choices increased it became clear that composers would be well served by a system that defined a portable, powerful and consistent interface to the myriad sound rendering possibilities.
Common Music produces sound by transforming a high-level representation of musical structure into a variety of control protocols for sound synthesis and display: MIDI, Csound, Common Lisp Music, Music Kit, C Mix, C Music, M4C, RT, Mix and Common Music Notation. Common Music defines an extensive library of compositional tools and provides a public interface through which the composer may easily modify and extend the system.
For more information on Common Music, please visit http://commonmusic.sourceforge.net/.