Planisware
OPX2 – A flexible project Portfolio Management Solution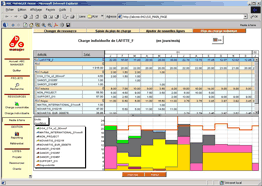 OPX2 is a comprehensive, all-in-one solution for project portfolio management. As a portfolio solution, OPX2 provides necessary information and simulation tools for decision making, strategic planning and project prioritization; and includes both an enterprise project control system and portfolio management capabilities for corporate governance. OPX2 tracks the project hours over the Internet, manages the planning and budgeting of resources, and much more.
Planisware, the developer of OPX2, is one of the leading Project Portfolio Management software vendors worldwide. OPX2 demonstrates a major advance for the distribution of enterprise, and has rapidly the leader of the new generation of project portfolio management designed to fulfill the demanding project management/development needs of an entire company. With a wide track record in defense, IT pharmaceuticals, R&D, and automotive, OPX2 is used in over 100 companies worldwide, by more than 100,000 customers.
Planisware, who has been using Allegro CL since 1993, chose to use Lisp for the creation of the high-performance application. Nicolas Vilars, Marketing Director, says "Allegro CL is an incredibly good language to develop true versatile, clever applications."
Vilars adds that Allegro CL and Lisp were used mainly to to interpret the rules included in OPX2, and enabled the company to quickly design powerful functions. "Compared to other languages, it is two times quicker to develop under Lisp than any other languages." confirms Mr. Vilars.
Allegro CL's multi-platform capabilities were also important to Planisware. "If today OPX2 is the fastest growing application in its category (Enterprise Wide Project Management Software), it is largely due to the outstanding design flexibility enabled by Lisp." says Vilars.
For more information about Planisware and OPX2, please visit www.planisware.com.