AllegroGraph Free Edition

Clients - Java, Python, Sesame, Jena, Lisp, Ruby, Perl, C#, Clojure and Scala.
Amazon EC2 - AllegroGraph Free Edition AMI
---
The AllegroGraph 4 Architecture
There are various client options when working with the AllegroGraph Server: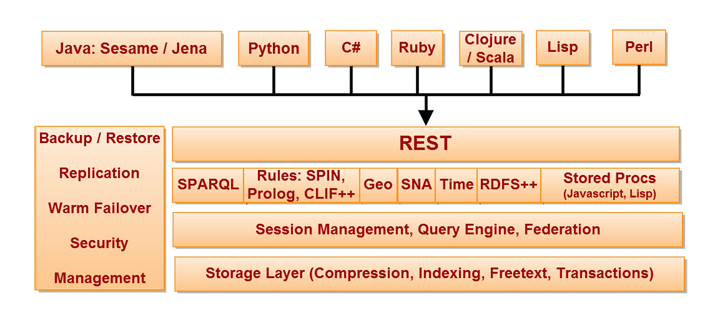 If you need to evaluate or purchase the full version of AllegroGraph, please contact sales@franz.com
Lisp users will require an Allegro CL Enterprise (Linux 64). If you want to use Allegro CL with AllegroGraph 4.0, please contact sales@franz.com
Note: The AllegroGraph 3.3 Free Lisp Edition is the version required to use AllegroGraph with the Express Edition of Allegro CL.
For more info, send email to info@franz.com or call (510) 452-2000.