Project Manager
The Project Manager dialog displays information about the current project which is returned by current-project. Most information about projects is displayed and much can be changed by changing fields in the dialog. The Project Manager dialog is displayed by the View | Project Manager menu command.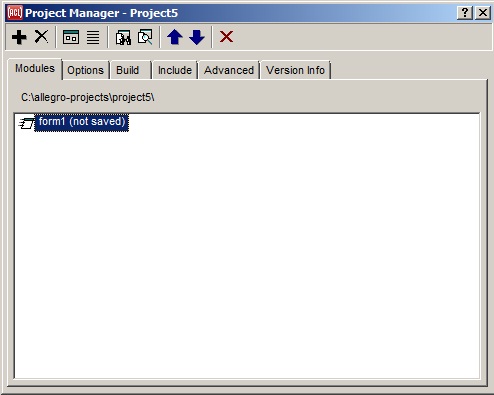 As shown in the illustration, the Project Manager has six tabs, Modules, Options, Build, Include, Advanced, and Version Info.
The Project Manager Toolbar
The buttons on the Project Manager toolbar are (identified by their tooltip label and, in some cases, their icon):
---
Copyright (c) 1998-2019, Franz Inc. Oakland, CA., USA. All rights reserved.
This page was not revised from the 8.2 page.
Created 2012.5.30.