Download Patches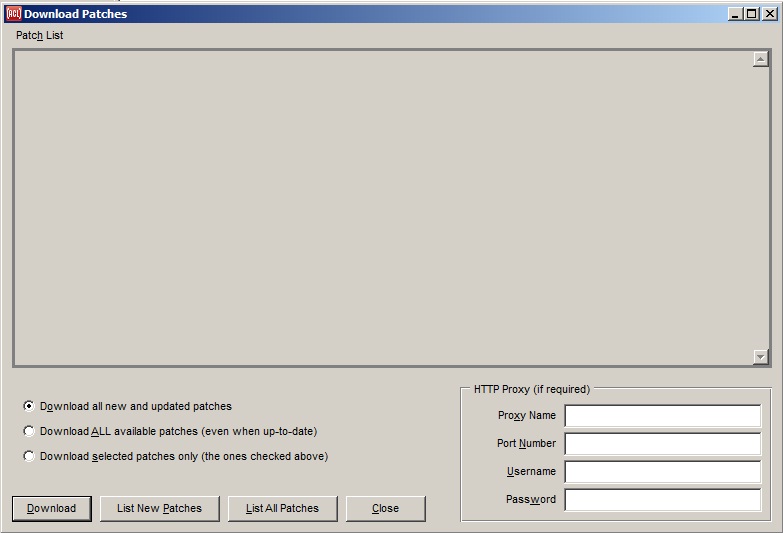 This dialog is displayed when you choose Install | Updates. It provides a window interface to update-allegro. In order for this dialog to work, the computer running Allegro CL must be able to make an FTP connection to the internet. (If your local network has a firewall, this dialog may not be usable to download patches. update-allegro has arguments, not settable with this dialog, that allow downloading to work in such situations.)
Displaying available patch information and downloading patches can take time. When you request those actions, a dialog reminds you of this fact and allows cancelling the request.
The display portion of the dialog displays (when commanded - it is blank when the dialog is first displayed) available patches, along with a checkbox to indicate whether or not the patch should be downloaded). The command buttons are (the radio buttons are described with the Download button):
Download: if clicked, the patch set indicated by the radio buttons above the button are downloaded onto your machine. The radio buttons specify whether just new and updated patches (determined by examining patches already downloaded), all patches, or just selected patches (selected with the checkboxes in the patch list) are downloaded when this button is clicked.
List New Patches: displays in the display portion of this dialog a list of all new (to you) and updated patches.
List All Patches: displays in the display portion of this dialog a list of all patches, whether or not new to you.
Close: close the dialog.
The four widgets in the HTTP Proxy group box at the lower right allow you to enter proxy information if your site requires an HTTP proxy. These widgets can be left empty if no proxy is needed, or just the proxy name and port number could be specified if no username or password is required. These values are saved as the value of the default-http-proxy configuration option so that future IDE sessions will remember the values, though the password is never saved for security reasons.
See also patch-reminder-interval.
---
Copyright (c) 1998-2022, Franz Inc. Lafayette, CA., USA. All rights reserved.
This page was not revised from the 10.0 page.
Created 2019.8.20.