Replace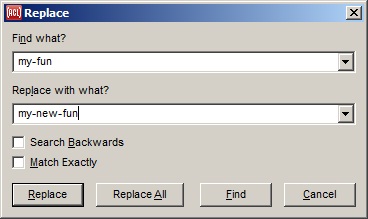 This dialog, displayed by Replace on the Search menu, allows searching for and replacing one string with another in a text window of some sort (the search will be done in the selected window).
This is a modal dialog and it will disappear after use. Search | Replace Again (which typically has a keyboard shortcut) can be used to find and replace again.
Searching will be backwards (up in a Window) if Search Backwards is checked. Case of letters is ignored unless Match Exactly is checked.
The fields holding the string to look for and the string to replace are combo boxes with previously chosen items stored.
If the Find button is clicked, the searched for string will be found but not replaced (replace it with Search | Replace Again). If Replace All is clicked, all occurrences between the current location and the end of the Window (bottom for normal searching, top for backwards searching) will be replaced.
---
Copyright (c) 1998-2019, Franz Inc. Oakland, CA., USA. All rights reserved.
This page was not revised from the 9.0 page.
Created 2015.5.21.