AllegroGraph News
November, 2013
In this issue
Free Webcast: Augmenting Hadoop for Graph Analytics

Wednesday, November 20 - 10:00 AM Pacific
E-commerce sites, auction sites, financial institutions, insurance companies and telephone companies all have event based data that describes transactions between customers (Social Networks) that are located in time and space (GeoTemporal).
All these transactions together form interesting social graphs and patterns of customer behavior. Some of these behaviors are very interesting from a marketing perspective, other behaviors might point to fraudulent actions. Analyzing graphs and geospatial oriented data is notoriously hard to do with typical big data solutions, such as Hadoop, so we use a hyper scalable graph database to do this analysis.
We will present a number of new technologies to make it very straightforward and user friendly to analyze behavioral patterns. We discuss extending SPARQL 1.1 with a large number of magic predicates for geospatial, temporal and social network analysis so that non-specialists can very easily build very powerful queries. We will present new visual discovery capabilities to GRUFF, a graphical user interface for Graph Search. We will demonstrate how users can explore visual graphs and easily turn interesting patterns into SPARQL queries.
To register for this webinar, see here
Gruff Gets Reification Right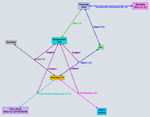 "Congrats to Franz again on GRUFF! I don't know whether to weep with joy or cheer over the perfection of the reification display!"
"I haven't seen another graph display that gets statement reification right, so I consider this a pivotal moment in the semantic community."
Click the image to enlarge it. "It is meant to encode "This morning, Jim planned on running to Costco before 6:00. Superbness! Great reification display!"
For further details, visit Eric Peterson's blog at http://semanic.blogspot.com
Free Webcast: Taxonomies and Ontologies for Graph Search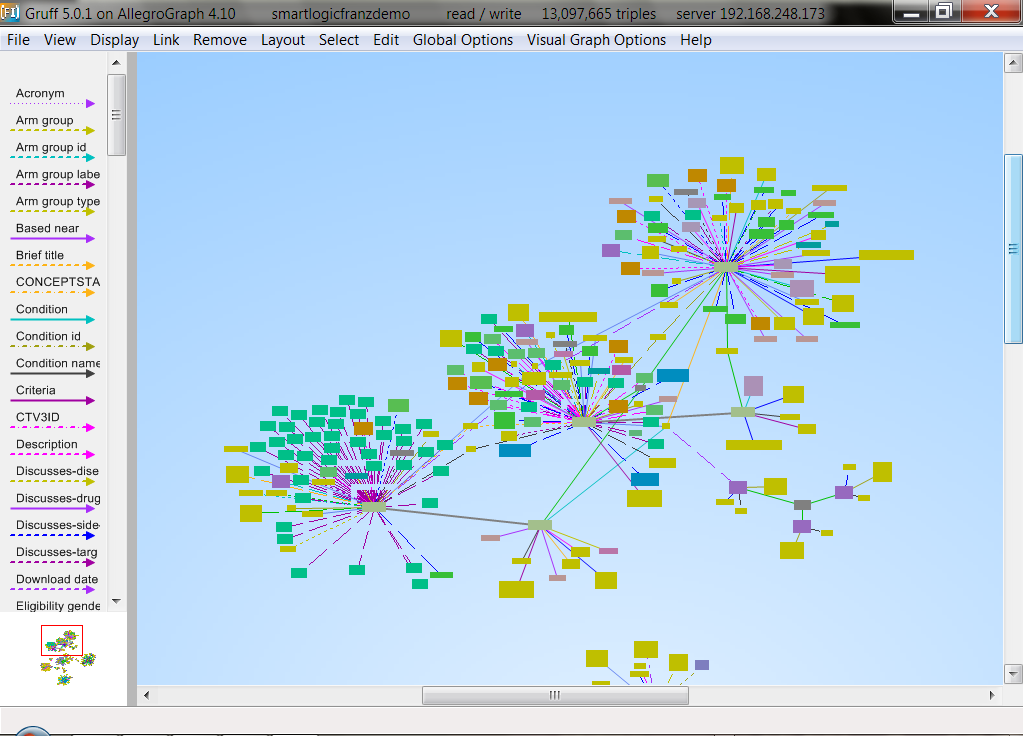 Wednesday, December 11 - 10:00 AM Pacific
Life Science and Healthcare organizations use RDF/SKOS/OWL based vocabularies, thesauri, taxonomies and ontologies to organize enterprise knowledge. There are many ways to use these technologies but one that is gaining momentum is to semantically index unstructured documents through ontologies and taxonomies.
In this talk we will demonstrate two projects where we use a combination of SKOS/OWL based taxonomies and ontologies, entity extraction, fast text search, and Graph Search to create a semantic retrieval engine for unstructured documents.
The first project organized all science related artifacts in Malaysia through a taxonomy of scientific concepts. It indexed all papers, people, patents, organizations, research grants, etc, etc, and created a user friendly taxonomy browser to quickly find relevant information, such as, "How much research funding has been spent on a certain subject over the last 3 years and how many patents resulted from this research".
The second project discusses a large socio-economic content publisher that has millions of documents in at least eight different languages. Reusing documents for new publications was a painful process given that keyword search and LSI techniques were mostly inadequate to find the document fragments that were needed. Fortunately the organization had begun developing a large SKOS based taxonomy that linked common concepts to various preferential and alternative labels in many languages. We used this taxonomy to index millions of document fragments and we'll show how we can perform relevancy search and retrieval based on taxonomic concepts.
To register for this webinar, see here
Franz to present at SF DAMA Day 2013, Dec. 11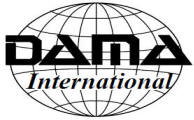 San Francisco Data Management Association (DAMA) Presents Hadoop & Big Data Analytics: Current Trends and Future Opportunities
As the current economic growth level is much lower than the past average, companies are not able to depend on the market growth for their revenues and profitability. So, while making investments and optimizing the operational efficiencies, they are depending more and more on sophisticated analytics and planning tools. Tracking performance against metrics and gaining insights from data have become integral part of managing the enterprise. As the data universe expands to include new variety, larger volume and higher velocity of data, the field of analytics demand new approaches. As a result, existing technologies are maturing and newer technologies are emerging in extracting more insights faster through the use of innovative analytics. DAMA Day 2013 will cover some of the new approaches to the Analytics with innovative and ground breaking ideas.
For further details and to register, see here.
Follow us on Google Plus, Twitter, and YouTube
Brief Highlights

New! AllegroGraph and Semantic Web White Papers

@Franzinc 4 Jun - Congrats KnowMED! Wins the Semantic Start-Up Competition. Powered by AllegroGraph.
#rdf #graphdb #nosql

Gartner Names Semantic Technologies To Its Top Technology Trends Impacting Information Infrastructure in 2013. Semantic technologies have made it to Gartner's list of the top technology trends that will impact information infrastructure this year. Read the full article here.

Semantic Case Study: Pfizer Moves Semantic Tech Forward, Helping Business Respond To Cost Pressures And Realize Efficiency Gains. A couple of years back, The Semantic Web Blog visited with Vijay Bulusu to gain some insight into how pharma giant Pfizer Inc. was moving forward with semantic technology. At the recent Semantic Technology and Business Conference in New York City, Bulusu, director, informatics and innovation at Pfizer, provided additional perspective on the issue - Read the full article here.

Semantic Case Study: EPIM ReportingHub.
The E&P Information Management Association (EPIM) launched EPIM ReportingHub (ERH), an interesting semantic technology project in the field of oil and gas. Read the full case study
here
.

KRSTE.my (Knowledge Resource for Science and Technology Excellence, Malaysia) is an initiative, based on AllegroGraph, by MOSTI and spearheaded by MASTIC to address science and technology issues and challenges faced by the community, the ministry and the country. KRSTE.my is designed to be a Single Point Access Facilities (SPAF) providing intelligent collaborative knowledge management and learning services platform on Science and Technology and Innovation. More info here.
Recorded past Semantic Technologies Webinars: Recorded Webinars
Please add me to your newsletter mailing list. We promise never to sell or divulge your email address to anyone. We will only occasionally send you information relevant to our products (about once a month).