Allegro SET - Semantic Entity Tracker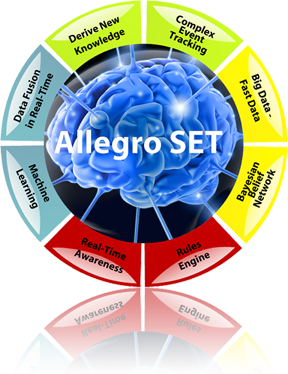 Big Data, Fast Data, & Complex Data -
Add a Brain to all your Data
What if:
Your business could anticipate the activity of an Entity (think - customer,smart phone component, employee, etc) in your organization
Your business could track the mostinteresting entity interactions in real-time
Your team could spend more time exploring entity relationships rather being buried in heterogeneous data problems?
Allegro SET is a closed-loop, self-learning system that lets you:
See what happens, when it happens
Understand what it means to your business
Take action and enforce business policy.....
automatically, intelligently and in business real-time
The Allegro SET Architecture
The Allegro SET Architecture brings together several new technologies:

Complex event processing
Semantic inference engine
RDF-based triple store and ontologies
Bayesian Belief Network
Entity Extraction
Modern ETL orchestration
And more
Collection of Events in Real Time
Collects published events
Convert event messages to RDF triples/quads
Determine relationships of class to properties for this individual (instance)
Decision Engine
The Decision Engine Transforms events into a knowledge graph about an entity.
Orchestrates

Update triples
Read triples
Invoke Bayesian Belief Network
Invoke Reasoner

Determines meaningful concepts
Correlates multiple raw events
Aggregates Information
Enrichment if necessary
Publish action message(s)
Allegro SET is redefining operational decision making:
Real Time: platform for continuous situational awareness
Semantic: operates on complete view of decision factors
Humanized: solutions for business analysts
Comprehensive: awareness and intelligent management of every interaction
Consistent: applies business policies consistently, across the board
Predictive: anticipates issues and foresees future events
Proactive: prevents problems before they occur
Semantic Entity Tracker Comparison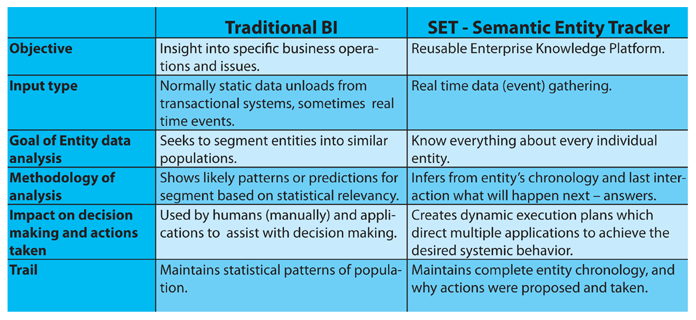 Support
If you have questions or comments, please contact us at support@franz.com.